You've got cancer… the three words no one wants to hear. Sadly, every day over 100 people in the DFW area do hear these terrifying words. Whether you are expecting the news or it comes as a complete surprise, a million thoughts race through your mind… Will I be okay? How will I take care of my family? How will I pay for treatment?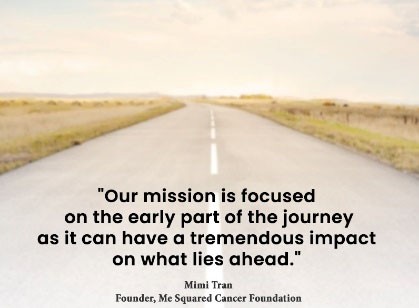 Even for those patients fortunate enough to have health insurance, deductibles and out-of-pocket expenses can run as high as $9,000 delaying treatment or even putting it out of reach, especially if the disease leaves the patient unable to work.
This is where Me Squared Cancer Foundation steps in.
"Our mission is focused on the early part of the journey as it can have a tremendous impact on what lies ahead."

Mimi Tran, Founder, Me Squared Cancer Foundation
Me Squared Cancer Foundation serves the newly diagnosed adult cancer patient in the DFW area. We provide financial assistance to help with co-pays and other medical related expenses to get patients started with their
treatments as soon as possible maximizing the chances for a best possible outcome.
In addition to financial assistance, Me Squared is staffed with former cancer patients who understand how daunting it is to stand at the trailhead of the cancer journey. They provide emotional support along with our signature Me Squared Caring Bags, large totes filled with specially selected comfort items to make the long days of treatment easier.
If you or someone you know has just heard those three dreaded words, get in touch with Me Squared Cancer Foundation. We can help.
Patient Spotlight – Dianne Harrell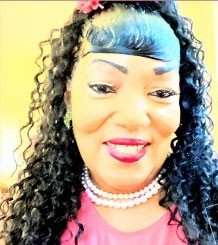 Dianne Harrell is one of our recent financial assistance recipients. Dianne is a pleasure to work with. She brings a positive attitude, boundless energy, and a strong faith to every interaction. We asked her to tell us a little bit about
herself, her cancer story, and her experience with Me Squared.
Tell us about yourself? I'm a caring, kind, and humble individual. I'm dependable, reliable, and committed. The things I enjoy is praising God, decorating, shopping, fixing hair and sewing. I'm a nurse by profession. A nurse comes from a heart that shows caring and compassion for others. Nurse is a action word! My Mother had 10 children, 8 girls and 2 boys. We played and shared together as children.
What is your cancer story? In February of 2021 I was diagnosed with right breast ductal carcinoma. I was devastated, stunned, and felt at a loss. I prayed and cried to God to heal me!! In March I had right breast mastectomy surgery. What a ordeal. God was with me. I continued to pray for God to heal me and for cancer never to return to my body!! God said "Healed Daughter"!! 
I ended up with so many bills from hospitals, doctors, procedures, copayments, x-rays, etc. It was so overwhelming!!

I was advised to take preventative chemotherapy. It made me so sick, I was hospitalized. The bills started racking up once again for an EKG, an angiogram, a stress test and other testing. The bills were out of control!!! 
How did Me Squared help you? I was watching Channel 4 News and saw the Me Squared cancer Foundation. As I observed, Mimi Tran was so sincere and dedicated to helping others. She was full of life, happy and excited to put a smile on others' faces. 
The Me Squared cancer foundation awarded me a scholarship that paid a good number of my bills
This took a tremendous amount of pressure and stress off me. I was able eat and sleep without tossing and turning with worry. This allowed me to not have to spend countless hours on the phone trying to work out some type of arrangement, knowing this was hard for me and something I couldn't afford. I had no money. I was robbing Peter to pay Paul.
Is there anything else you would like to add? Thank you, Mimi Tran, and the Me Squared Cancer Foundation for allowing me to smile, sleep and to not have stress and anxiety as I was going through the preventative chemotherapy. 
Let me say this: Having a right Breast Mastectomy and preventative chemotherapy is a heavy load all by itself!! Thank you for taking the load of financial burden off of me. 
I thank Father God for the Me Squared Cancer Foundation and allowing me to be blessed through this foundation. 
I want you to know you're making a difference in people's lives and placing a smile on our faces.
Thank you, 
Minister, Dianne Harrell
Join the Team:
If you have a heart for the newly diagnosed cancer patient, here are some ways you can help:
Helping Patients Get the Care They Need
This past month, we surpassed $155,000 in financial assistance provided to cancer patients since our founding in 2019. Here's how that breaks out:
How do the People We Help Find Me Squared?
Patients in need of help find Me Squared  in  many  ways. Some find us on our web site, some through word of mouth from friends or people we've assisted in the past, but the majority are referred to us by Patient Navigators/Case Managers from the cancer treatment centers around DFW.
Last month we met with Laurie, an Oncology Nurse Manager from a local treatment center to present her with checks to help the patients cover their out-of-pocket costs so that they could start treatment. We asked her to tell us about one of the people we helped.
".. unfortunately, I've had 3 patients this month [in this situation]. One lady has just been evicted from her apartment and is living from couch to couch with her children. She is a single mother and was totally unable to raise the money she needed to pay her out of pocket. In fact, she can't even pay her copays. Me Squared has so graciously donated their money so that she can begin her chemotherapy and get the treatment she so desperately needs."
Save the Date – Friday, February 25, 2022:
Me Squared is so excited to present our very first Friday Night Black & White Party
It is going to be a unique and fun night with great entertainment, spirits, food and auction items. This party will celebrate all the cancer patients Me Squared has helped and will raise money to ensure our mission continues helping more patients get their cancer treatments.